objective:
Prospective, multicenter, phase ll, non-randomized clinical study to evaluate the effectiveness and safety of the Axiom Worldwide DRX9000® tm for active treatment of chronic LBP utillizing a standardized clinical research multimodal protocal.
METHODS:
20 patients with chionic LBP, based on a diagnosis of musculoskeletal or mechanical LBP, herniated discs, bulging or protruding discs, degenerative disc, pain from failed back surgery more then 6 months  previously, posterior facet syndrome or sciatica underwent a series  of 20 DRX treatments (28 mins each) for weeks with 5 sessions the first week  tapering to 1 sessions, lumbar stretching exerciser and adjunct analgesic as  required. Assessments of pain, analgesic use functionality, satisfaction, activities of daily living and safety were collected through examinations, questionnaires and patient diaries.
RESULTS:
18 evaluable subjects (33.3% female,83.3% white, mean age46.6,77.8% employed) had mean pain score 6.4 on a 0 to 10 scale (0=no pain 10=worst pain) Prior to first DRX treatment that decreased to 0. after last DRX treatment 88.9% of patients (16 outof 18) reported an improvement in back pain, and better function as measured by activities of daily living. on  a 0 to 10 scale (0=Not satisfied 10=very satisfed)  patients rated the DRX9000® an 8.1. no patient required any invasive therapies (e.g, eqidural injection, surgery).
CONCLUSION:
overall, patients pain improved after DRX treatment requiring fewer analgesics, with better function. there  were no safety issues identified with the multimodal treatment routine.Non-treatment or control groups were not included making efficacy outcome versus placebr or spontaneous recovery difficult to determine. randomized double-blinded or comparative long-term outcome trials are needed to further prove the efficacy of the DRX9000® non surgical spinal decopression system for the routine treatment of chronic LBP.
Paucity of literature on benefits of none-surgical spinal decompression over other non-surgicl treatments
Previous studies are poorly desigend
Results are descriptive in nature
Efficacy versues placebo or spontaneous recovery difficult to determine
Over 1200 DRX9000® in use today
METHODS
---
Prospectiive, multi-center, phase ll, non-randomized clinical trial
3 free-standing clinics (2 MDs and 1DC)
Diagnosis:low back pain > 12 weeks
Outcome measures assessed:
-Daily pain diary
-verbal rating scale(VRS)
-Oswestry pain questionnaire
-Adverse Events -Satisfaction survey
TREATMENT PROTOCOL
---
-28-minute sessions for 6 weeks
-Tolal of 20 treatments
5 sessions weeks 1&2
3 sessions weeks 3&4
2 sessions weeks 5&6
Additional Therapy
-ice therapy post DRX
-Back exercises after week 2
DEMOGRAPHICS
Total Number of Subjects=18
Male
66.7%
Mean Age
46.6yrs
LBP symptom Duration(mean)
526
weeks
Mean Height
175 cm
Employed
77.8%
Mean Weight
102 Kg
Retired
16.6%
White
83.3%
Other
5.6%
Hispanic
16.7%
FAILED THERAPY PRIOR TO DRX9000®
Procedure
#
Procedure
#
Chiropractic
16
TENS
5
Muscle stimulation
10
Acupuncture
3
Ice Therapy
9
Lumbar Sopport
3
Massage Therapy
9
Epidural injections
3
Exercise
6
Facet injections
1
Heat
5
Ultrasound
1
Physical Therapy
5
Other Decom-pressive Therapy
1
FAILED THERAPY PRIOR TO DRX9000®
| DIAGNOSIS | | LOCATION | |
| --- | --- | --- | --- |
| Bulging/Protruding Disc | 15 | L1-L2 | 1 |
| Degenerative Disc | 8 | L2-L3 | 3 |
| Herniated Disc | 6 | L3-L4 | 4 |
| Posterior Facet Syndrome | 2 | L4-L5 | 14 |
| Failed Back Surgery | 1 | L5-S1 | 12 |
| | | | |
| --- | --- | --- | --- |
| Adverse | Related to device | Adverse Event | Retated to device |
| Neck Pain | Possibly | Shoulder Pain | No |
| Head Cold (2) | No | LBP/flu-like Symptoms | No |
| Sinus headache(2) | No | Vertigo | No |
| Sinus infection | No | Adrenal insufficiency | No |
CHANGE PAIN SCORE BY TREATMENT WEEK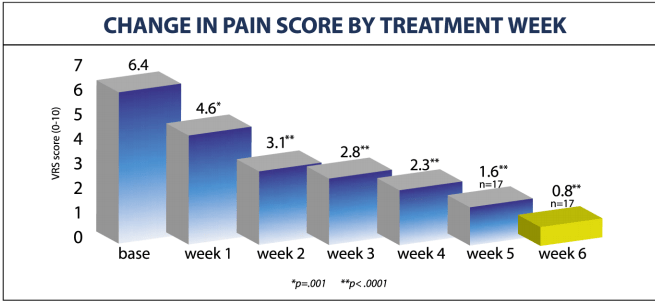 CHANGE IN OSWESTRY SCORES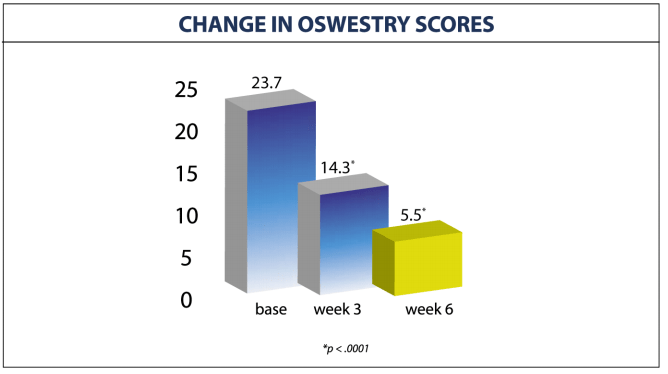 SATISFACTION SURVEY
Satisfaction by week
Would you recommend DRX9000® to anyone else
Week 3 Week 6
7.6 8.1
A 6-week coures of 20 DRX9000® treatments significantly reduced the severity of chronic LBP in 89% (16 of 18) of treated patients form 6.4 to 3.1 after 2 week and to only 0.8 (scale 0-10) after completion of treatment
Oswestry disability scores improved from 23.7 to only 5.5 at end of the therapy
Adjunctive pain medication consumption was decreased by DRX9000® treatment
No sideficant adverse events or safety issues resulted from DRX9000® treatment
The DRX9000® shows great  promise in treating chronic LBP arising from multiipal causes
Comparative outcome trials utilizing a set of satndardized and validated multiple outcome variables as was utilized in this study are being planned to docment the value of DRX9000® non-surgical spinal decompression system in routine treatment of chronic LBP
The DRX9000® is the Worlds Most Advanced Non-Surgical Treatment for Back and Neck Pain